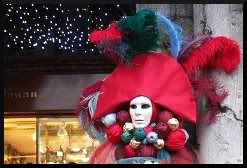 I'm really, really late with this post, but I had a lot of photos and videos and not much time to arange them!
This is the third year of "Sensation" Venice Carnival (my old posts:
2009
,
2008
)... and I'm very bored with it! This theme doesn't inspire me any costumes!
Official calendar wasn't as great as last year, but I liked
'Insects'
, however I have to say that I didn't saw many official shows this year because I had less time to go to Venice daytime. Luckily some ideas and shows were the same of last year, for example
Invasati
, and Piazza San Marco garden (my last year photos
here
), but I'm displeased because I lost
Carillò
show that seemed to be funny!
Something I really liked was the child performance for the Chinese New Year, beautiful!
Venice Carnival by night was, as always, messy and crowded, but it's in the evening that the best of handmade maskers come out, and I always want to chatch all of them before this parallel tradition goes to disappear.
I think that if the official calendar would plan some good night events for young Venetian people it would be better. Peolpe would had an aim instead of be packed on Rialto bridge for listening to disco music cds, and tourists finally could appreciate this side of Venice Carnival inspite of consider it some messy and drunken crowd!
Under the cut you could find my slideshows!
(
Whole slideshows
Collapse
)
(
Focus on something curious
Collapse
)
(
My costumes
Collapse
)
Current Mood:

sleepy
Current Music: Almamegretta - Sole